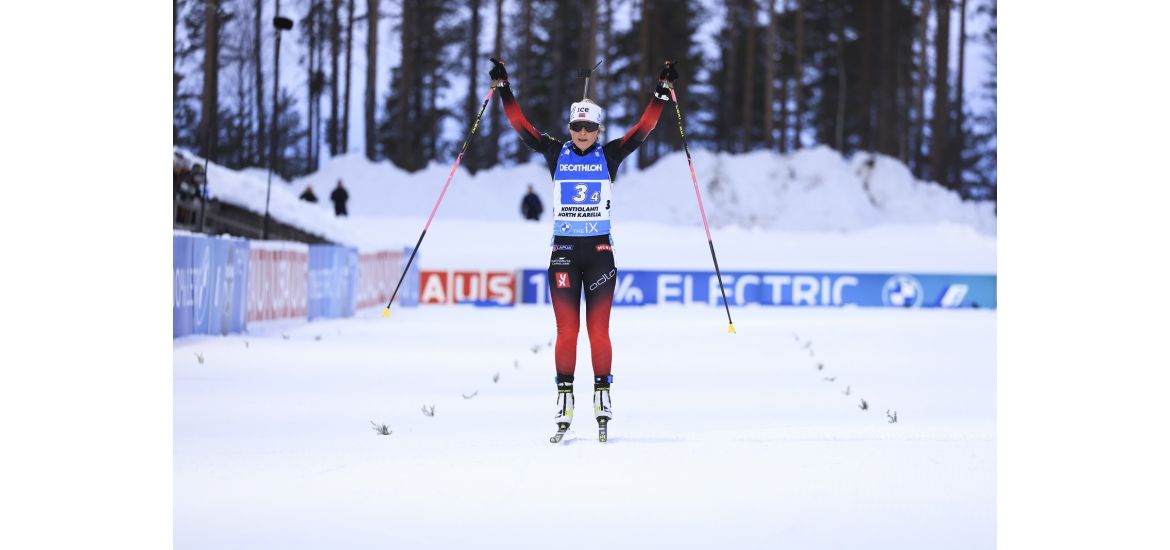 Ingrid Landmark Tandrevold anchored the Norwegian team to victory. Photo: Manzoni/IBU
03.03.2022
Norway takes women's relay, Finland 11th after struggles
The Norwegian team who placed 4th in the Olympics, won the women's relay on the opening day of the biathlon World Cup event in Kontiolahti. Sweden placed 2nd, 37,7 seconds behind. Italy placed 3rd.
---
The victorious Norwegian team consisted of Marte Olsbu Roiseland, Tiril Eckhoff, Ida Lien, and Ingrid Landmark Tandrevold.
Tandrevold had to break off her Olympic campaign due to health concerns, but she is fit to compete again. On biathlonworld.com, Tandrevold was happy about her performance today and saw it as a very good start to the last World Cup stages. The Norwegian team wanted their anti-war message to be visible, so they aimed at staying in front the whole race.
Finland placed 11th with Mari Eder, Suvi Minkkinen, Nastassia Kinnunen, and Erika Janka on the team.
- I am quite happy with my performance. I was a bit worried about the skiing, especially after the Olympics. But it felt ok, rather differently than in China. The shooting was on a good basic level for me. It wasn't our best relay, I was personally concerned about my own physical level at the moment. That must have been a positive sign, ponders Minkkinen.
Finland had a challenging beginning when Eder had to do a penalty loop after the first shooting. The team fell way behind. Additionally, Janka had to do a penalty loop as well, and the team used 13 spare rounds in total. Eder was annoyed about the season's first penalty loop in a relay.
- It was windy during my shooting. I thought I considered it, but I didn't succeed. The mistakes were my own. Physically I did pretty well. Onwards to Saturday, states Eder, who directs her thoughts to the next race.
Sweden who took the 2nd place, also took the lead in the relay World Cup, because France was disqualified.
Men's relay will take place on Friday.
Translation from Finnish: Hanna Sairanen