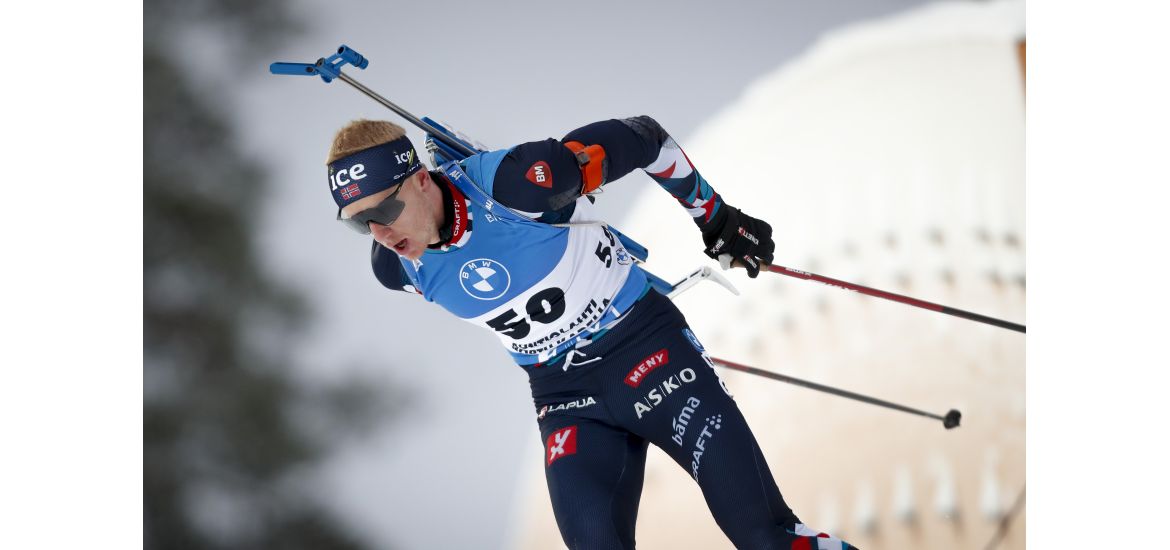 Norway's Johannes Thingnes Boe was - again - fast on skis and secured his first win of the new BMW IBU World Cup season before his teammate Sturla Holm Laegreid. Photo: Kalle Parkkinen.
03.12.2022
Boe Led Norwegians to a Double Victory in Sprint, Challenging Day for Finns
The men's sprint ended with Norway's double victory, as Johannes Thingnes Boe won and Sturla Holm Laegreid placed second. Even with one penalty Boe was 10.5 seconds faster than Laegreid. German Roman Rees was third.
---
Although Johannes Boe was happy with yet another victory in Kontiolahti, he wasn't happy with the shot he missed.
"You can be satisfied, but you are always hunting clean shooting in the sprint, especially having pursuit the day after. It is a little bit frustrating. Most important is to get to win," Boe said and added that the competition was very tight.
Hiidensalo pleased with shooting, Seppala's feeling didn't quite match the result
The Finns had a more challenging day than in the previous competitions, but Tero Seppala and Olli Hiidensalo's strong performances brought World Cup points. Seppala missed two in standing and placed 31st, Hiidensalo missed one in prone and finished 33rd.
"Both shootings felt good. The prone was not terribly fast, but the targets fell pretty surely. In standing, I tried to do what I can and have done in training. In a way I did just that, but the targets did not (all) turn white. I need to talk to the coaching team about what is still going wrong. I felt I was doing well in skiing, but the clock didn't like it. I don't know why there was such a gap. We need to analyze it more closely," said Seppala and directed his thoughts to the pursuit.
Hiidensalo felt positive about the race, especially about his shooting:
"Especially when you have a penalty first and then clean, you'll get an even better feeling than the other way around. Skiing wasn't the best possible today, maybe I wasn't in as good shape as the previous days. I didn't finish as swiftly as I would have liked. But the days are different, today's race was like this," Hiidensalo said.
In addition to Seppala and Hiidensalo, other Finnish men will not participate in the pursuit on Sunday. Tuomas Harjula was 63rd in the sprint, Heikki Laitinen 71st,  and Jaakko Ranta 80th.