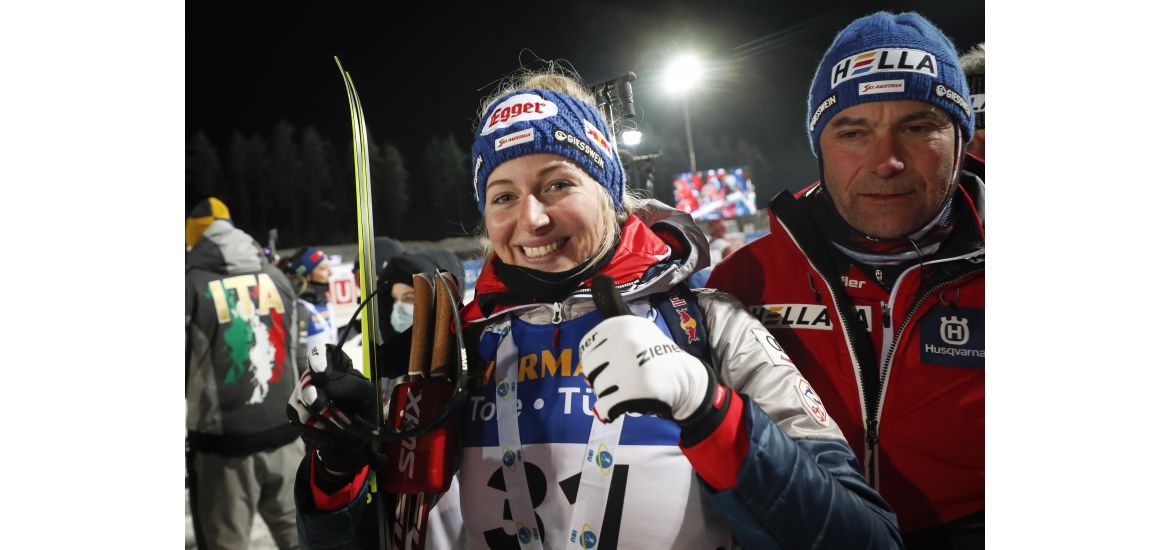 29 years old Lisa Hauser from Austria got her fourth World Cup victory in her career. Photo: Kalle Parkkinen.
03.12.2022
Hauser Won, All Finnish Women Qualified for Pursuit
Austrian Lisa Hauser won women's sprint with clean shooting. Italian Lisa Vittozzi got one penalty and placed second, 17.3 seconds behind Hauser. Linn Persson of Sweden placed third.
---
For Lisa Hauser, this was her career fourth World Cup victory. The athlete was emotional after the victory, as she had many problems during the training season.
"I never expected such a good start to the season. I had some trouble in the summer, so I just told myself I had to go race by race. Now I am here with another victory in a sprint. I gave it all I had today."
Hauser was not sure of her victory when she started the last lap.
"I knew there were some fast girls behind me. I came into the finish, I said "I gave it all I had so I have to be satisfied. Then another girl and another came to the finish and now I am standing here (as a winner)," Hauser rejoiced.
Eder unfortunate in standing
The best of the Finnish five was Mari Eder, who was 19th. Eder missed two shots in standing and lost 50.3 seconds to Hauser.
"Prone went well technically, but when I came to standing, the magazine did not go all the way in. Unfortunately, I first shot empty and then had to rebuild the position. Standing has been a bit of work anyway. We have to continue working on it, and tomorrow there is a good opportunity to practice," Eder said.
Eder was in a good shape on track, and the spectators played a part in it as well:
"There was some noise out there, it helps!"
Suvi Minkkinen was 27th, Venla Lehtonen 40th, Nastassia Kinnunen 43rd, and Erika Janka 55th. Minkkinen missed one shot in prone.
"In the prone stage, I lost my focus a bit when a passing competitor touched my ski. It didn't affect the trigger, but I lost my concentration. When you get a penalty in prone, you need to clean standing to have a good race. That's something I'm happy with," says Minkkinen.