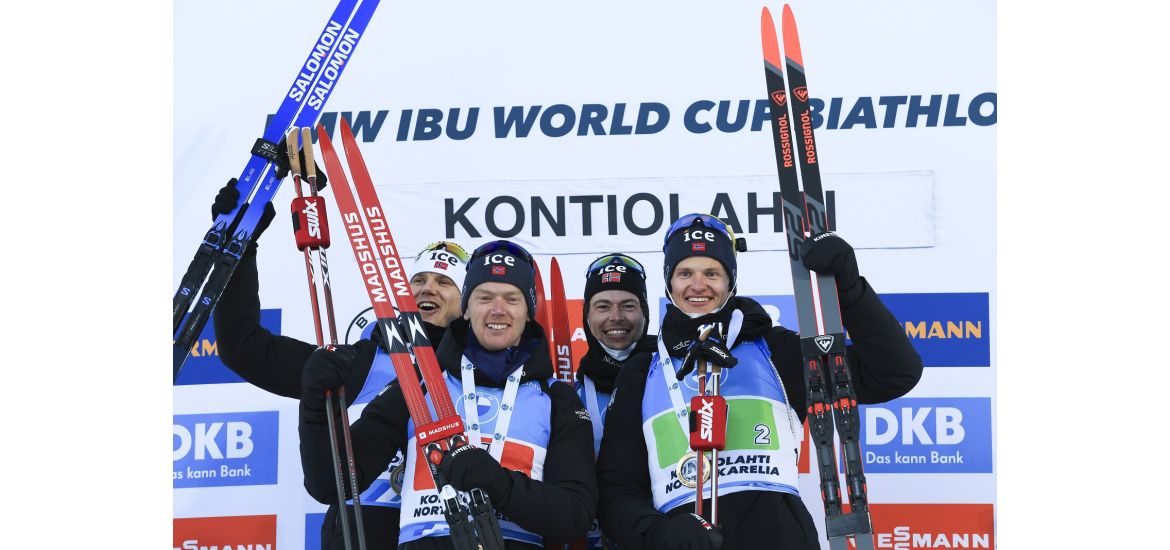 Vetle Sjaastad Christiansen, Guttorm Sivert Bakken, Filip Fjeld Andersen and Sturla Holm Laegreid took the victory and the World Cup Relay Score Crystal Globe to Norway. Photo: IBU/Manzoni
04.03.2022
Men's relay: Norway wins again, Seppälä's performance the greatest joy for Finnish team
The top spots of the men's relay were decided on the final leg. Norway won leaving Sweden to take 2nd place by 10,6 seconds. France beat Germany in the battle for 3rd place by a mere second.
---
The Norwegian victory without the Boe brothers reflects the high level of the Norwegian men's team. The team consisted of Guttorm Sivert Bakken, Filip Fjelp Andersen, Sturla Holm Lagreid, and Vetle Sjastad Christiansen. Norway also took 1st place in the relay World Cup. They won four out of five relays this season.
Christiansen relived the Olympics during the final shooting, as four teams were fighting for the podium.
- One of us had to be number four. I tried not to think about the podium and this unlucky fourth place. I heard Sebbe (Samuelsson, Sweden's anchor) shoot an early shot and he missed, so I thought "just take your time and just clean". It was our fifth victory of this year and without the brothers from Stryn (Boe). I am very happy, stated Christiansen on biathlonworld.com.
Spectators boost Seppala
Finland finished 9th with Heikki Laitinen, Tero Seppälä, Olli Hiidensalo, and Jaakko Ranta. Particularly Seppälä's performance thrilled the audience and delighted the biathlete himself: fast, good shooting without spares and strong skiing raise the expectations towards the weekend.
Seppälä was the 7th fastest.
–It was a good performance to clean both shootings without spares and pretty quickly, too. A good start to the event, he says.
The successful Finn took joy in the spectator action during his leg.
–It was nice to hear my name called in the wall climb, as well as the hoorays after I shot down the targets. It was nice to race. I am looking forward to tomorrow and the weekend's races, states Seppälä happily.
Ranta fast on skis
Jaakko Ranta was also content with his leg. He used only one spare round as the final shots from the clip didn't hit the target.
–The skiing was good today. I risked it a bit in prone and standing, but it went well on the shooting range. As a team we took our best placing in men's relay this season. It was a balanced performance, though there is room for improvement, Ranta sums up.
Saturday is busy with competitions, as both men and women compete in sprints in Kontiolahti.