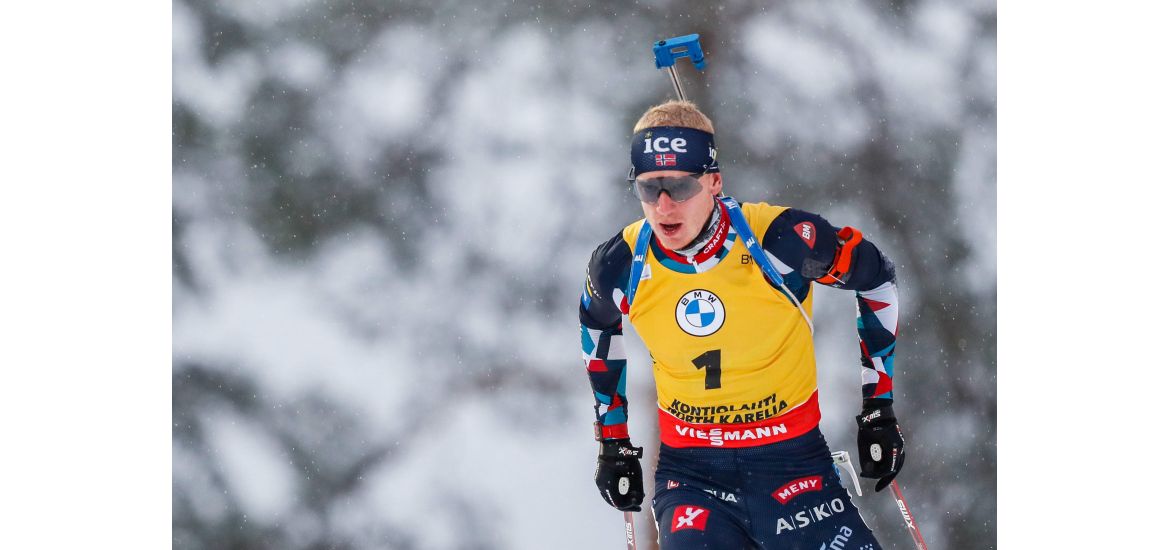 "The first clean shooting was perfect. The second one I took a little bit more time and still managed to shoot clean. But in the final shooting, I lost one bullet up, so it was hard in the end", said the winner. Photo: Kalle Parkkinen
04.12.2022
Boe Continued His Celebrations in Pursuit, Hiidensalo 27th as the best Finn
Norway's Johannes Boe finished his successful week in Kontiolahti with a victory in men's pursuit. Similar to the sprint the day before, the Norwegian double win was completed by Sturla Holm Laegreid. The French Emilien Jacquelin was third.
---
Johannes Boe took the win despite three missed shots, and the gap to Sturla Holm Laegreid, who missed twice, was 19.2 seconds. Boe missed two of his three in the last standing.
"The first shooting was perfect. The second one I took a little bit more time and still managed to shoot clean," Boe looked back on his successful shooting stages.
When he headed for the penalty loop after the last stage, he didn't need to be very worried.
"I heard they were also missing, so it was just to push. It is not the best way to end the race, I need to be better for the next pursuit. Today I am happy with the victory, but I could have done it differently," pondered Boe.
Hiidensalo ended the week satisfied: "My performance has progressed"
Finnish biathletes Olli Hiidensalo finished 27th and Tero Seppala 51st. Hiidensalo missed four in total, but cleaned the last standing stage.
"The mistakes (in shooting) were due to my own carelessness, I didn't manage with the wind today. I should have reacted more strongly with clicks than I did. Some of this is always my own fault. Standing went well. Skiing was better, it was perkier than yesterday. I had a good week. My performance has progressed, I'm happy to go to Hochfilzen," said Hiidensalo, satisfied with the opening event.
Tero Seppala's pursuit lost his chances for a good placing in the first shooting as he missed four. Later, he missed two more. It was not easy to continue the race from there.
"It was a bit tricky, to plod there in the very last place. Thanks to all the spectators for supporting me, even though the situation was not great. The second prone and last standing were good today, there was more negative there. It has been a challenging week, but the relay result makes me feel good," says Seppala.
---
Translation from Finnish: Hanna Sairanen