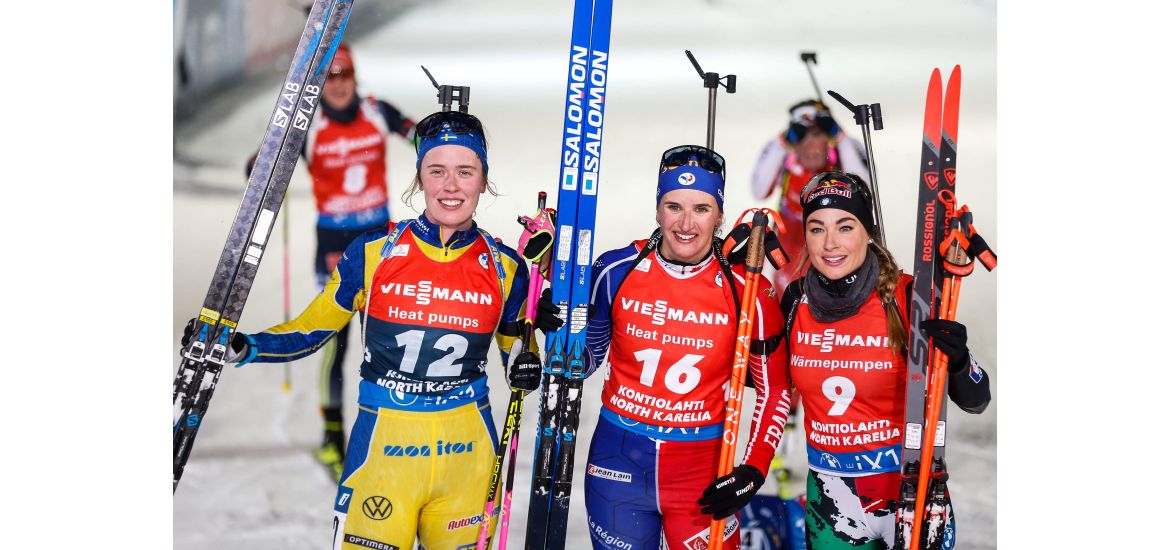 Julia Simon and Dorothea Wierer shot clean, Elvira Öberg had one penalty. Photo: Kalle Parkkinen.
04.12.2022
Julia Simon Took Pursuit, Minkkinen's Result Career Best
Women's pursuit had a French winner as Julia Simon took the first place. Italian Dorothea Wierer took the second place and Swedish Elvira Oeberg placed third.
---
Julia Simon's recipe to victory was clean shooting and fast skiing. It was her first ever all-clean shooting in a four-stage race. Dorothea Wierer also shot clean and finished 11.9 seconds behind the Frenchwoman. Elvira Oeberg was the third with one penalty.
Simon rightly described her competition as 'perfect'.
"My best race, perfect shooting. It feels special. I am so happy that I do not know what to say."
Simon was also pleased with the tough competition, where the atmosphere was electric and a lot was solved on the shooting range. Italian Lisa Vittozzi will travel to the next venue, Hochfilzen, wearing the World Cup leader's yellow bib. Vittozzi placed fourth on Sunday.
Minkkinen on her opening week: "The end result is positive"
Suvi Minkkinen succeeded in pursuit and placed 15th with two penalties. The placing is Minkkinen's career best. The missed shots came from the first and last stages. In the end spurt, Minkkinen beat another top biathlete, as she took over Germany's Denise Herrmann-Wick.
"I was able to find some strength for the last lap. I started pretty hard and had some more difficult laps in between," Minkkinen said.
She got a good start for the season in the home event and summed up her performance, satisfied:
"The end result is positive. Today, a career-best placing and the best season start I've ever had," Minkkinen said.
Mari Eder placed 24th with six missed shots. She got three of the penalties in the last stage. Eder found a lot of positives in her shooting performance.
"The last standing wasn't bad either, even though the result was like that. It's up to the little things" Eder said.
The opening week brought Eder all kinds of things, but summing things up, she felt positive:
"I could have had a lot more. But the situation is what it is and perhaps even a bit further than I thought. I'm feeling positive. I'm in a good point in this process," Eder said.
 The other Finns, Nastassia Kinnunen, Erika Janka and Venla Lehtonen placed 48th, 55th, and 58th respectively.