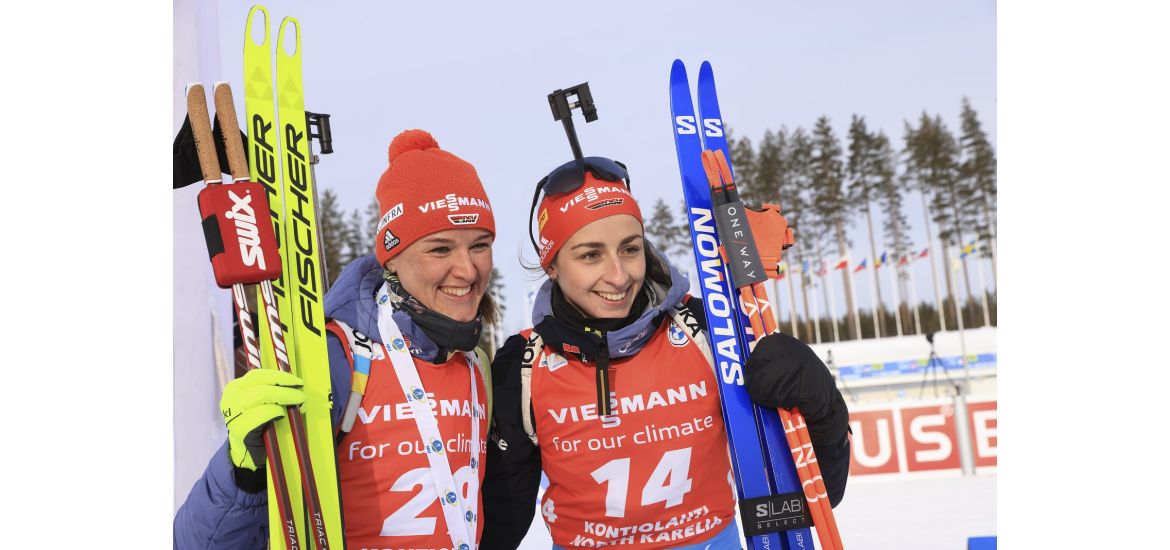 Denise Herrmann and her teammate Vanessa Voigt (6th) were all smiles after the women's sprint. Photo: IBU/Manzoni.
05.03.2022
Denise Herrmann takes first World Cup victory of the season, Eder in top ten in front of home audience
Germany's Denise Herrmann smiled like the sun in Kontiolahti after winning the sprint by five seconds to Norway's Tiril Eckhoff. Stina Nilsson of Sweden scored her first ever podium in the biathlon World Cup. The spectators also got to enjoy great Finnish performances by Mari Eder (9th) and Suvi Minkkinen (25th).
---
Each biathlete in the top three cleaned prone but shot one penalty standing. Herrmann, who won gold in the Olympics, scored her first World Cup victory of the season.
– It was nice to come back to Finland. The conditions today were perfect, and my skis were great, says smiling Herrmann.
– I had to focus, coming to the shooting range. The range is not the easiest in the world here in Kontiolahti, but it (shooting) went well.
Stina Nilsson was a part of the Swedish Olympic team, but she didn't get to race in China. She found her top performance in Kontiolahti confusing.
– This feels unreal! My body has felt good these past few days, but I didn't expect to be on the podium today, says Nilsson.
Eder: "It was great to have a good performance in front of the home crowd"
Mari Eder managed the sprint with one miss from standing shooting. She lost 29,1 seconds to the winner and will have an excellent position in the pursuit tomorrow.
– It was great to have a good performance in front of the home crowd. They supported us really well. There were a lot of people on the stands, which felt fantastic. It feels great to place in the top ten, says Eder and was delighted about her good starting position in the pursuit.
Suvi Minkkinen was glad about her success as well.
– Today was a good day! 25th is a great place for me, the gap to the lead is small, and I'm really happy to place there with one penalty. I feel really good. The pursuit will be a tight race. There are lots of good placings to take and there will be lots of changes. I will fight for a better place, states Minkkinen happily.
In addition to Eder and Minkkinen, no other Finnish ladies will be participating in the pursuit on Sunday. Erika Janka placed 73rd and Nastassia Kinnunen was disqualified. 
(Translation from Finnish: Hanna Sairanen)