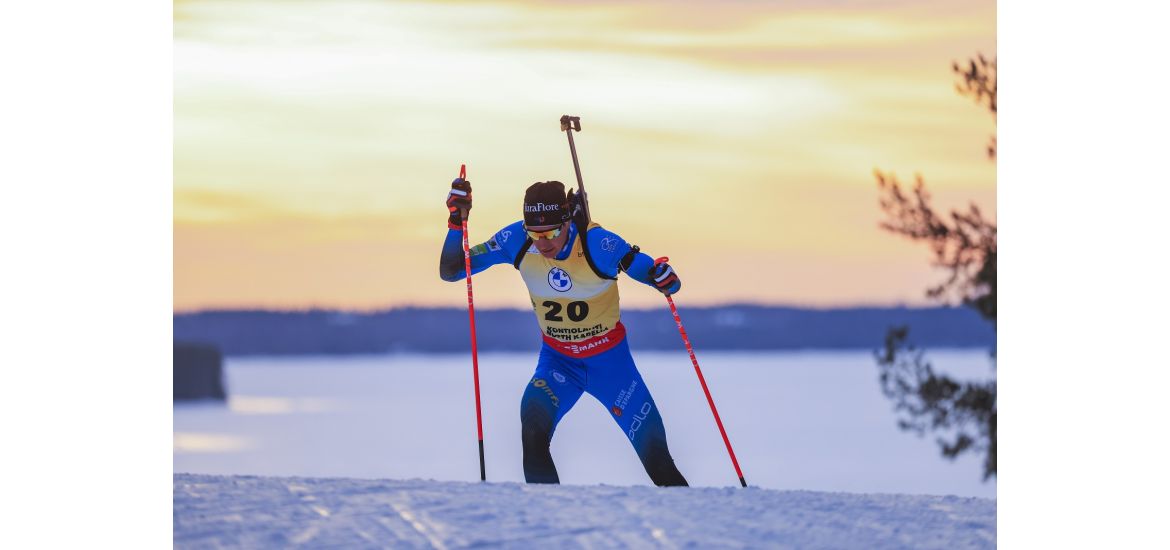 Quentin Fillon Maillet & sunset in Kontiolahti. Photo: IBU/Manzoni.
05.03.2022
France's Quentin Fillon Maillet victorious, all four Finns to pursuit on Sunday
France's Quentin Fillon Maillet kept up his strong performance from earlier this season as he won the men's sprint in Kontiolahti. Norway's Filip Fjeld Andersen took 2nd place by 18,3 seconds. Germany's Johannes Kuehn was third.
---
Quentin Fillon Maillet's victory brought him closer to winning the World Cup Total Score.
–  I wanted to keep up my good performances, and that's what happened today. I am very content. I haven't thought much about the pursuit tomorrow, but I am focused on my performance, says the Frenchman.
Filip Fjeld Andersen's 2nd place is his best individual result in the World Cup. Kontiolahti has already provided the Norwegian a lot to be happy about, because on Friday, Andersen and his teammates won the relay.
– I was calm and confident in shooting. When I hit the last target, I was very happy, says Andersen and seemed confident about the pursuit as well.
Home crowd boosted Seppala in the wall climb
The Finnish men had an excellent day with all four qualifying for the pursuit on Sunday. Tero Seppala placed best at 18th, Olli Hiidensalo at 38th, Heikki Laitinen at 57th, and Jaakko Ranta at 59th place. The unfortunate Seppala missed two shots in prone but cleaned standing. He is 59,4 seconds behind the lead.
–  I am still in good shape on skis. I was able to push it on the last lap when the home crowd was cheering in the wall climb. Too bad I got the two penalties in prone. I was luckily able to pull myself together. After that, I was able to keep the gap to the leader the same. I cleaned standing and skied well until the end. I placed a bit further back, but the differences are small. Tomorrow will be a tough race. I'll try to fight for a good result, states Seppala.
Hiidensalo's race was balanced despite two misses in standing.
– The placing was ok, I got World Cup points and got a good setup for the pursuit tomorrow, Hiidensalo wraps up.
The pursuit on Sunday will certainly be thrilling.