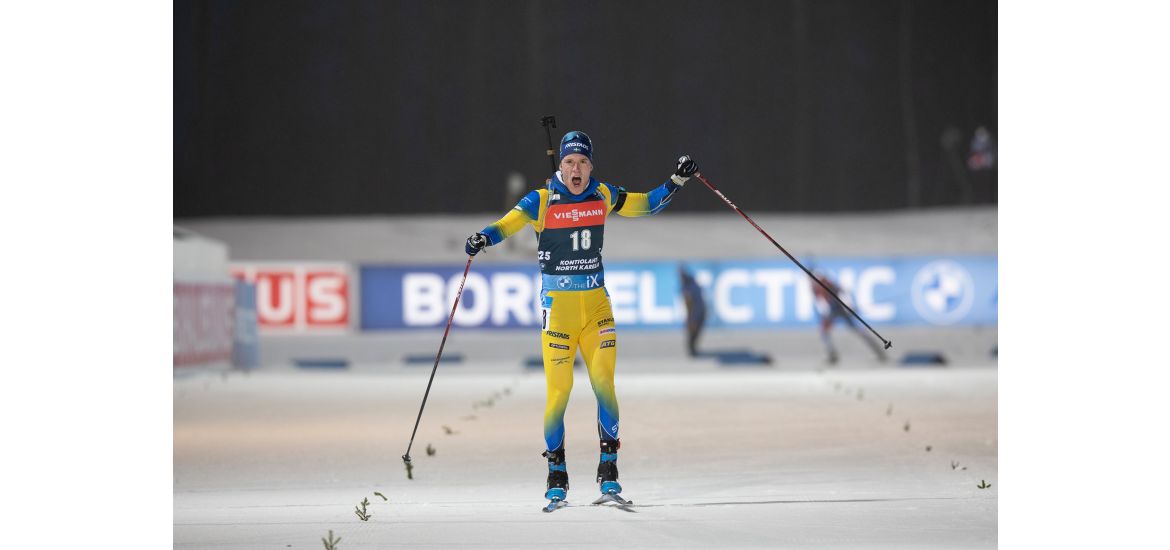 05.12.2020
Samuelsson's exciting pursuit for first World Cup win of career, Seppälä 37th
---
Sweden's Sebastian Samuelsson came back from 18th in the sprint to win the pursuit today, his first-ever World Cup victory. France's Fabien Claude was second, 15.8 seconds back, and Norway's Johannes Thingnes Bö was third, continuing his strong run.
Samuelsson and Bö arrived at the last shooting range simultaneously. Both missed the first shot, and Bö also missed the second. The other athletes, however, could not keep up with Samuelsson and Bö was left to fight for the other podium places. In the end, Bö was unable to match Claude's strong move in the Wall Climb. For Samuelsson, this missed shot in the last shooting was the only in the whole race while Claude and Bö had three penalties apiece.
Samuelsson was almost speechless with happiness.
"My race was perfect. I was not so happy with my sprint race. I knew that today if I had a good race, I could possibly place in the top six," Samuelsson said.
There were a few exciting moments for Samuelsson at the last shooting stage when Bö was alongside. The first missed shot made him nervous, but luckily for Samuelsson, Bö also missed. When Samuelsson gained control of his shooting, he made it out of a tough situation with one penalty and kept hold of the top spot.
France's Fabien Claude started the race with two penalties, fired one more in the second prone stage and then cleared the standings cleanly.
"This is a good achievement for me, especially the clean standings," Claude said in second place.
Standing shooting challenging for Bö
Johannes Thingnes Bö has been on the podium in all of the competitions this season. The Norwegian made the clean shots he wanted in the prone stages, which put him at the top of the competition. In the standing shooting, on the other hand, he didn't have the best day, as he missed three shots.
"My standing shooting did not go as expected today, but that's biathlon," Bö acknowledged, having settled for a happy third place.
Of the Finns, Tero Seppälä was 37th with five penalties and Olli Hiidensalo 56th
Seppälä's competition got off to a good start when he took advantage of the hard draftings and shot the first prone stage cleanly.
"I was advancing but then my second prone was not so good. I might have been going a little too fast in the second loop. I made a few mistakes and earned a few more penalties in the standing and that was the end of my progress. The rest of the loop weighed on my leg. The relay will be well fought tomorrow," Seppälä said.
Hiidensalo stated succinctly that he earned too many penalties – there were seven in total.
"It was down to my own mistakes," Hiidensalo said.
See the full results at: biathlonresults.com
Text: Heidi Lehikoinen
Translation: Saana Kallioinen
Photo: Manzoni/IBU