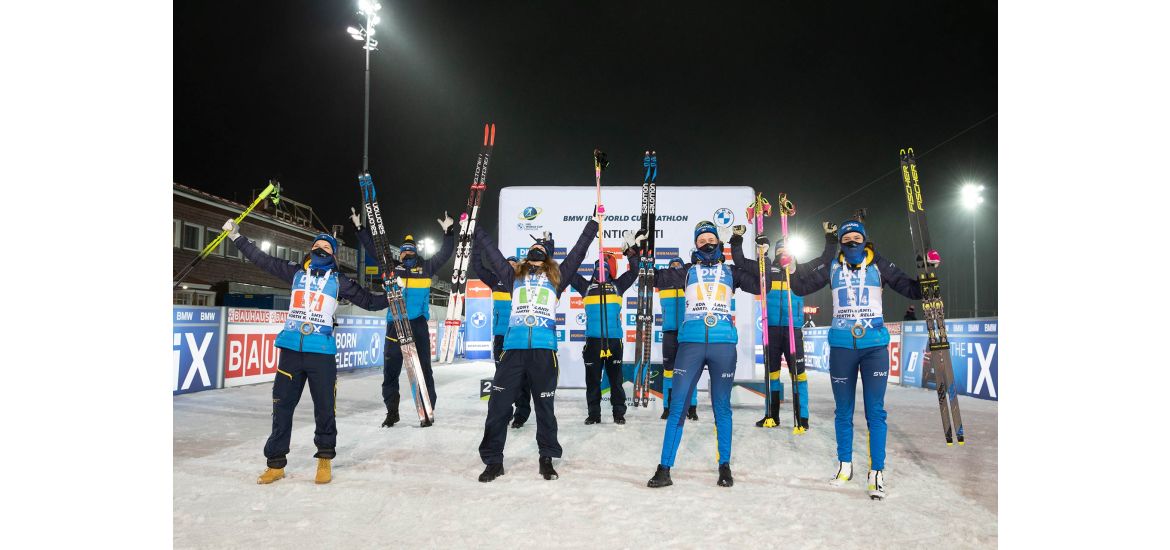 05.12.2020
Swedish women's relay victory after almost ten-year break
---
Saturday was a perfect celebration for the Swedish biathletes, as the women's quartet celebrated their relay victory as a continuation of the men's competition victory. The Swedish women's team last won the Biathlon World Cup relay in January 2011. France was second and Germany third.
The Swedish team consisted of Johanna Skottheim, Mona Brorsson, Elvira Öberg and Hanna Öberg.
"We have had a strong team for many years. Many times we have been candidates for the relay victory, but another team has been a little better than us. This victory today means a lot to us. This is yet another indication of how strong we are this year," said Hanna Öberg, who has had an amazing start to the season, according to the IBU website.
As the anchor, Öberg had the honor to seal the relay victory after the three other Swedes had handled their parts exemplarily.
"They gave me the perfect setup for the anchor loop," said Öberg thankfully.
Finland was 14th in the women's relay, with Suvi Minkkinen, Mari Eder, Venla Lehtonen and Erika Jänkä on their team.
"As a whole, probably quite a reasonable performance from us. As a team, we can be relatively pleased that we didn't earn any penalty loops," Minkkinen said.
Venla Lehtonen enjoyed racing again.
"Overall, it was a balanced performance from myself and the team as a whole. For me, skiing in the first two laps was pretty good going. The prone stage was poor and it was here I made two mistakes. The standing was really good and the shooting was clean. It was nice to get to show what I could do. The end of the final round was quite heavy going, but as a whole, I am satisfied," Lehtonen said.
See the full results at: biathlonresults.com
Text: Heidi Lehikoinen
Translation: Saana Kallioinen
Photo: Manzoni/IBU