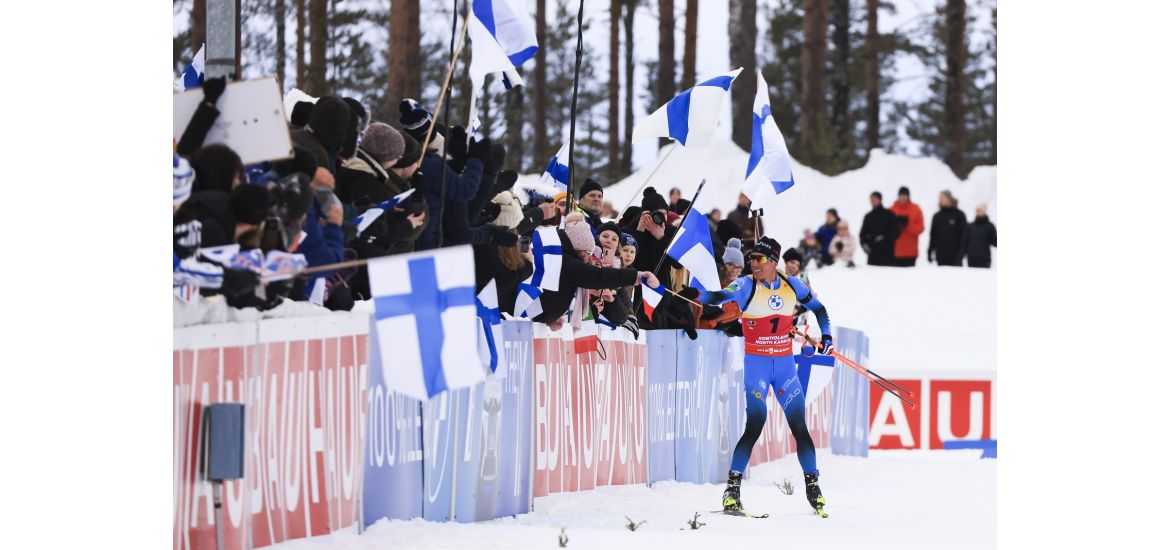 Quentin Fillon Maillet continued to dominate pursuits this season in Kontiolahti. Photo: IBU/Manzoni.


06.03.2022
France's Quentin Fillon Maillet wins again, Seppala finishes 14th
Men's pursuit ended in a familiar tone as Quentin Fillon Maillet of France grabbed his 6th pursuit victory. Germany's Erik Lesser finished 2nd, 8,2 seconds behind, and Italy's Lukas Hofer finished 3rd. Out of the Finnish quartet, Tero Seppala placed best at 14th.
---
Quentin Fillon Maillet, who only missed one shot, was surprised about the number of victories in pursuit this season.
– It is incredible! To win a pursuit you must succeed in sprint, too, states the happy Frenchman.
He hasn't felt optimal about skiing, however he has performed well in the competitions over the season. When asked how he stays in control of the situation, his "means of survival" was a very basic:
– I sleep a lot.
Erik Lesser is going to finish his handsome career at the end of this season. He was once again successful in Kontiolahti - his previous World Cup podium was also in Kontiolahti in 2020.
– In the wall climb I thought I have to give it my all. I don't know why, but I really like that last climb, Lesser pondered his repeated success in Kontiolahti on Sunday and in previous years.
Seppala's weekend ends in a positive note, Ranta scores first World Cup points
Tero Seppala missed one shot in each shooting and ended up 1.24,1 behind the winner.
– The race was good today. Too bad I missed a shot in each shooting, but my skiing was strong, and the service team did a great job today. I was able to improve my position a bit (from 18th place). In that respect, I can be satisfied. It was great to compete in front of the home crowd. I feel good about the upcoming two World Cup weekends, says Seppala.
Olli Hiidensalo improved his position to 29th, Jaakko Ranta finished 38th, and Heikki Laitinen was disqualified. Hiidensalo missed one shot in the first prone and two in the first standing.
– The first standing was poor shooting; the rest was moderate or good. The skiing in the line was pretty easy, so I had some energy left to push it in the last loop and gain a few places. The event left a good aftertaste, says Hiidensalo.
Ranta scored his first ever World Cup points. A good shooting helped him – he only missed one shot.
– Today was a good day! My shooting was brilliant. I made a tiny mistake in the second prone, which I could have corrected, but three clean shootings were a good performance. Skiing in the line was also good, so I was able to improve my position bit by bit and grab those points, states Ranta.
Translation from Finnish: Hanna Sairanen