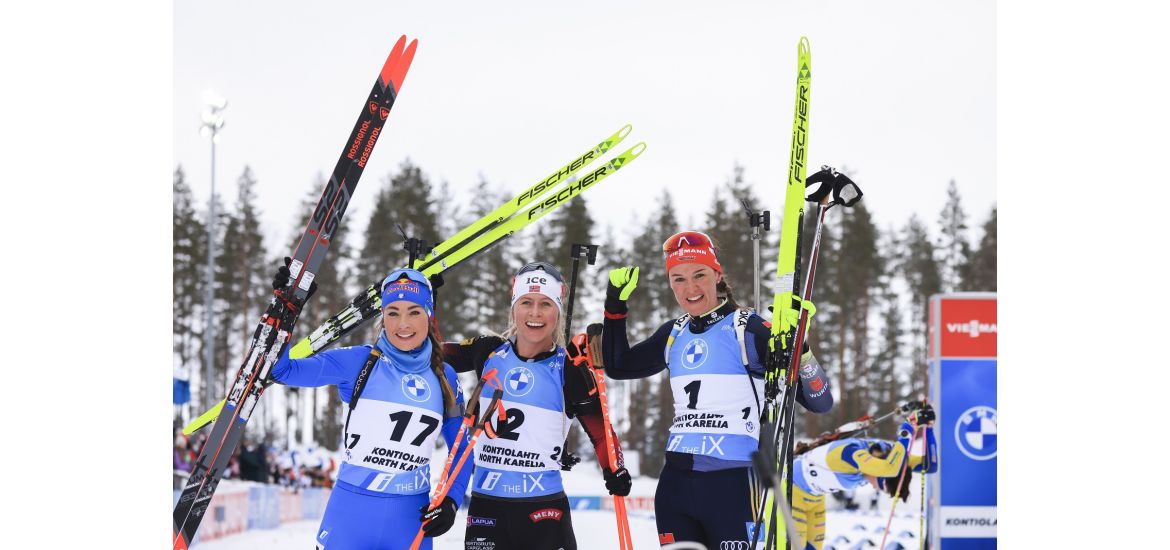 Dorothea Wierer, Tiril Eckhoff and Denise Herrmann. Photo: IBU/Manzoni.
06.03.2022
Tiril Eckhoff scores season's first victory, Minkkinen 24th
Norway's Tiril Eckhoff started second but rose to victory in women's pursuit in Kontiolahti. Dorothea Wierer from Italy climbed from 17th place to second, and Germany's Denise Herrmann placed third. The Finns' Suvi Minkkinen placed 24th and Mari Eder 42nd.
---
Tiril Eckhoff cleaned the first three shootings and held the top position despite two penalties in the last standing shooting.
– I was very tired, Eckhoff explains the missed shots, laughing.
To her, the victory was the first of this rollercoaster season, so the good level she found for the Olympics seems to continue.
– I was really tired on the last lap. I am looking forward to the next races, says Eckhoff.
 Dorothea Wierer got through the race without missing a shot.
– I focused on shooting and didn't want to shoot too fast. I didn't think it would be possible to rise to the podium with bib number 17, because there were so many strong girls in front of me. I am really glad, says Wierer.
Minkkinen gains World Cup points, Eder happy about success on Saturday
Suvi Minkkinen missed one shot in the first prone shooting, and another one in the last standing shooting. Mari Eder was more misfortunate: she missed seven shots.
Minkkinen placed 25th in sprint so her weekend was a success.
– I feel good about today's race. In prone I made the same kind of mistake as yesterday, meaning I "breathed it though" a bit. In the second prone I tried to keep a better rhythm and the group was tighter. The first shooting was more restless. In standing I made a small mistake. It was a decent shooting. It feels good to have won the final spurt, and I scored a good number of points today, Minkkinen sums up.
Eder failed to succeed the way she'd hoped for.
– I didn't succeed today. The week has all in all been quite inconsistent. I'm glad I had one good race. It's better than nothing, says Eder.
Translation from Finnish: Hanna Sairanen