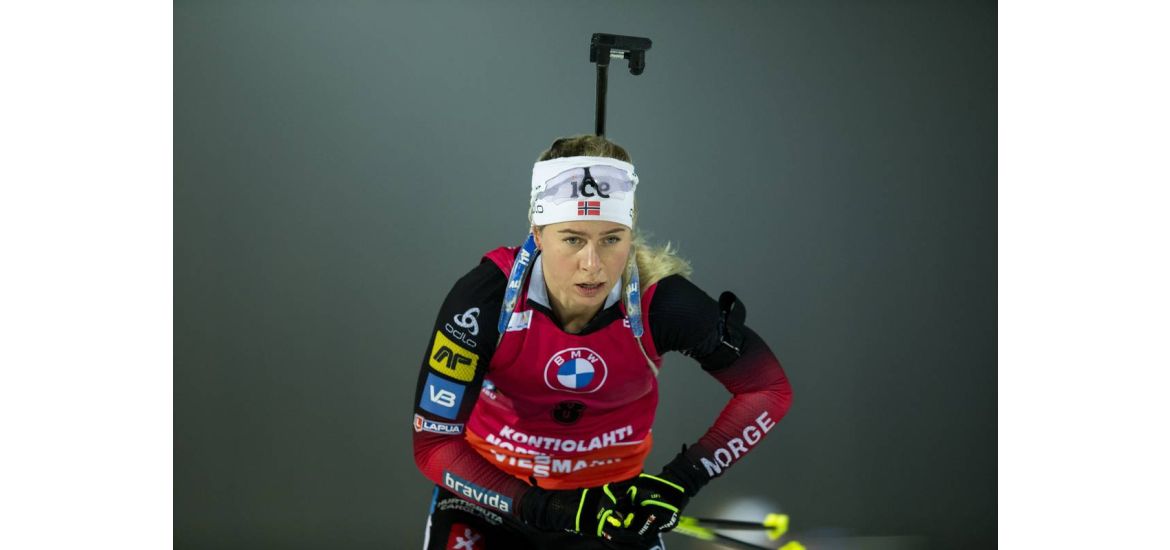 06.12.2020
Clean-shooting Eckhoff rose from eighth place to pursuit victory
---
Norwegian Tiril Eckhoff's fine form in the shooting helped her rise from eighth place to take victory in the women's pursuit, the closing event at BMW IBU World Cup Kontiolahti.
Eckhoff cleared all four shooting ranges without any penalty loops. Norway had a double victory with Marte Olsbu Röiseland, finishing 21.5 seconds later, and Hanna Öberg from Sweden, who won the women's sprint, placing third.
Eckhoff rose to victory after the third shooting range and arrived at the shooting range in the final round at the same time as Röiseland and Öberg. Eckhoff made all her shots, but Röiseland and Öberg each faced one penalty loop.
For Eckhoff, her podium place was her first of the season. She has talked in the past about how life in a biathlon bubble has felt difficult during the corona pandemic. She has also experienced challenges with her shooting, but everything went well for her on Sunday.
"Today I was very focused. I tried to shoot the targets down one by one," Eckhoff said.
Röiseland was very pleased with Eckhoff's success. She herself fired two penalties in the standing but performed well on the track.
"Yesterday Norway did not do so well (in the relay), so I was really motivated before this race. It was a good fight," Röiseland said happily.
Öberg continues wearing the Yellow Bib as the World Cup leader despite her third place.
"It was a new situation to start the pursuit first, I enjoyed it. I started well. Today I was very tired, but I'm really happy about being on the podium," Oberg said.
No Finns participated in this race.
See the full results at: biathlonresults.com
Text: Heidi Lehikoinen
Translation: Saana Kallioinen
Photo: Manzoni/IBU