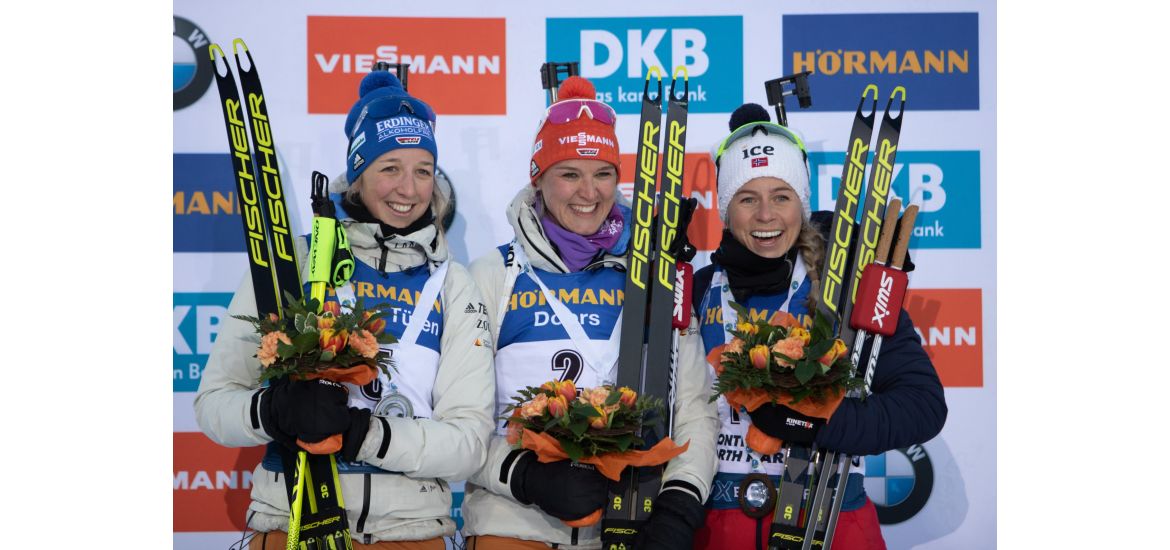 13.03.2020
Germans take gold and silver in women's sprint, Mäkäräinen 18th
---
Germany took the first two places in the women's sprint event with Denise Herrmann winning and Franziska Preuss in second place. Both had a single miss on the shooting range, with Herrmann winning by a margin of 20,1 seconds. This was Herrmann's second win in the season, which means her first overall victory in the sprint cup.
- It was a fair event for everybody with snow falling throughout the race. The most important thing was to shoot cleanly or at least with very few misses. There were places where I was a bit lucky, too, Herrmann mentioned in her biathlon.com comments.
Kaisa Mäkäräinen shot cleanly prone, but had three misses standing.
- I was feeling great, probably one of my best competitions in that sense, Mäkäräinen picked out as a positive detail.
She enjoyed the competition although the situation was so exceptional.
- This is really sad, competing without any spectators, Mäkäräinen commented; she added that she was worried about the consequences for her club, Kontiolahti Sport Club.
- It's not important who, but hopefully somebody will offer to help the club so it can at least cover its expenses and be able to offer biathlon in the future.
Suvi Minkkinen placed 35th, Mari Eder 47th, and Erika Jänkä 92nd. Minkkinen was satisfied with her performance but Eder felt differently.
- Not much to tell the grandchildren, she commented.
Saturday is the pursuit race day.
After today's race the International Biathlon Union IBU decided that the 2019-2020 World Cup season ends with Kontiolahti. The men's and women's pursuit races will be held on Saturday but the relays planned for Sunday are cancelled.
Images: Heidi Lehikoinen