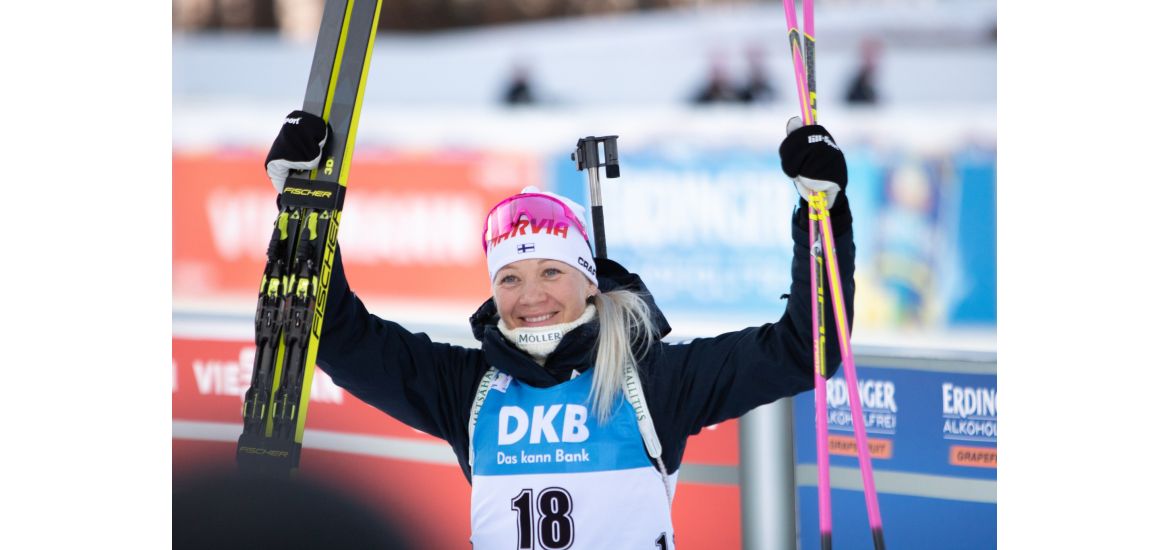 14.03.2020
Mäkäräinen and Fourcade end magnificent careers – pursuits a French triumph
---
As well as being the end of the Biathlon season, Kontiolahti was the end of their careers for two magnificent athletes, when Kaisa Mäkäräinen and Martin Fourcade participated for the last time in the World Cup. Fourcade crowned his career with victory in the men's pursuit, Mäkäräinen battled for a place on the podium but finished fourth. As in the men's event, the women's pursuit victory went to France when Julia Simon celebrated her victory waving the Tricolor.
Mäkäräinen created some excitement on her last round when she was closing in before the wall rise behind Selina Gaspari lying second and Lisa Vittozzi in third. However, she missed third place at the line by 7,3 seconds, which didn't seem of great importance at the emotional moment.
- A great improvement today. Of course it's an emotional moment but there's a time for everything. Lots of great experiences this last winter and in previous years. The decision had to be made some time, and now it's done, Mäkäräinen told the media.
Although Mäkäräinen ended her career as a star athlete, she won't be leaving competition behind:
- You can be absolutely sure that I'll be appearing here in the stadium with a number on some time. I certainly won't be dropping out of the Finnish competition scene completely. Competitions are a great motivator to put on skis and go out for a run, Mäkäräinen smiled.
Mäkäräinen's decision to end her career was an emotional moment for others, too, not just herself, which is hardly surprising. The support of Biathlon spectators was an important to her, and the thought of the biathlon scene without Mäkäräinen led many to express their enormous respect for the Kontiolahti Sport Club's star.
It was an emotional day for Julia Simon, too, as she took her first victory in the world cup.
- It's hard to grasp. I can't remember the last series at all, I just saw they were all hits. It was fantastic. I don't know what to say, Simon was quoted on the IBU's biathlonworld.com
Fourcade led the French celebration when they took a triple victory. Quentin Fillon Maillet placed second and Emilien Jacquelin third. It was a stylish end to Fourcade's career as he took his first ever world cup win just 10 years ago at Kontiolahti.
- I'm proud of everything I've achieved. This was a beautiful ending, said Fourcade on biathlonworld.com
Tero Seppälä was the only Finnish competitor in the pursuit race and finished 31st.
- Today prone was not so good, but standing went well. So I'm happy about that. And a good final spurt, Seppälä summed up his competition, which included four misses.
Seppälä remebers that as a youngster watching TV he noticed about Fourcaud, who retired from competition today:
- When he decides that today is his day to win, then he wins. Lots of times I've seen his celebration when the targets fall in the last series. There aren't many would take the risk. He represents us all with IBU, important guy, Seppälä expressed his admiration for his colleague, who retired from the world cup circus today.
The season's whole world cup series remained exciting to the end. The results of the Kontiolahti competitions mean that Norway's Johannes Thingnes Bö took the overall win in the men's cup and Italy's Dorothea Wierer in the women's.
Photographs: Heidi Lehikoinen