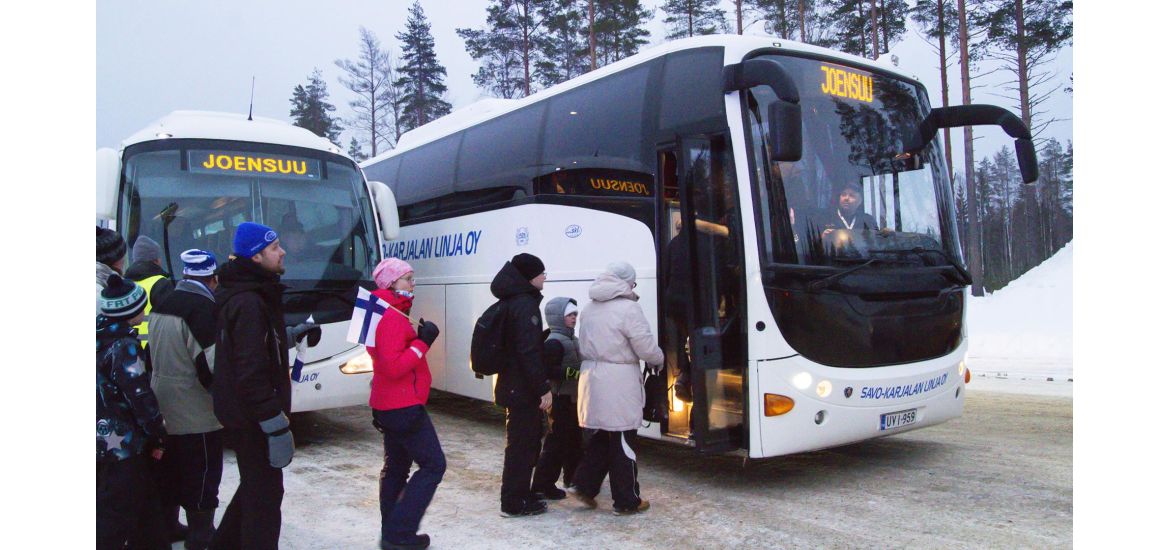 21.02.2020
Free World Cup transport from Joensuu and Kontiolahti – timetables have now been published
Press release 21 February 2020 for immediate release
---
The shuttle bus timetables for the Biathlon World Cup event on the Kontiolahti Biathlon Stadium in mid-March have been published. In addition to free bus transport, event partners will organise transport also from Koli and other parts of Finland.
The City of Joensuu and the Municipality of Kontiolahti provide public transport free of charge to the biathlon stadium on each competition day from Thursday 12 March to Sunday 15 March 2020. In Joensuu, the buses' point of departure and arrival is the Market Square (Kauppatori) in the city centre. In Kontiolahti, the buses depart both from the centre and from Lehmo. This year, you can also get on the bus at the Kylmäoja school.
The first buses depart for the stadium on every competition day approximately three hours before the competition events begin. On days when there is only one competition event, Thursday and Friday, the last bus to the stadium departs 45 minutes before the start of competition. A return bus service starts when the competition ends and the last buses depart as the event area closes. On days when there are two competition events, Saturday and Sunday, the shuttle bus service runs non-stop from morning to evening.
There will also be a lot going on on the Joensuu Market Square. During the World Cup weekend, there will be a screen showing Yle's broadcast from the competition as well as other programmes and activities that you can enjoy while waiting for the shuttle bus or just to get into the World Cup atmosphere.
Transport services also from Koli and other parts of Finland
You can also take a bus from Koli and other parts of Finland. Some accommodation providers (Möhkön Rajakartano in Ilomantsi, for instance) also offer transport services for their guests.
"Six tour operators from different parts of the country are organising bus transport to Saturday's event. The bus tour of one tour organiser is already sold out but there are still seats available on other routes," says Heikki Hamunen, representing Kontiolahti Sport Club, the organiser of the event.
Further information:
Shuttle bus timetables and routes: kontiolahtibiathlon.com/en/transportation
Bus travel packages from different parts of Finland: kontiolahtibiathlon.com/en/bus-trips
City of Joensuu: Teemu Laasonen teemu.laasonen@joensuu.fi +358 50 413 8708
Municipality of Kontiolahti: Sari Jormanainen sari.jormanainen@kontiolahti.fi +358 500 180 800
Kontiolahti Sport Club: Heikki Hamunen heikki@kontiolahtibiathlon.com +358 400 350 900