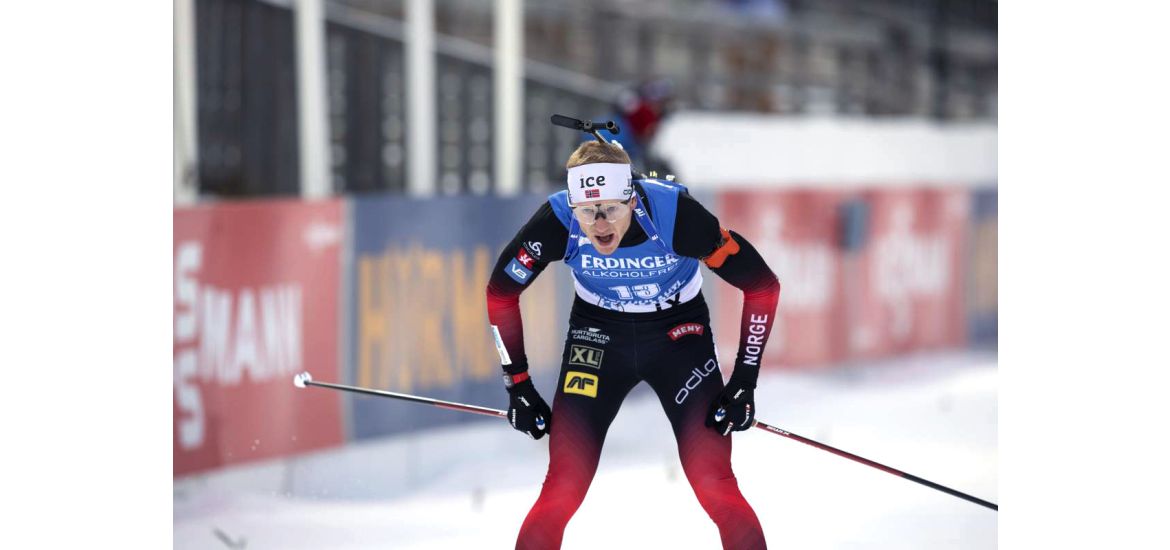 29.11.2020
Bö takes back Yellow Bib, Seppälä 41st
---
Norway's Johannes Thingnes Bö took an overwhelming victory in the men's 10 km sprint and will be able to wear the cup leader's Yellow Bib again in the next race. Bö was followed by Sebastian Samuelsson from Sweden in second place and Martin Ponsiluoma placed third, continuing the Swedes' great opening weekend success.
Bö cleared the race without a single penalty and increased his winning margin to 44.1 seconds with his familiar strong skiing.
"I could have shot faster in the standing stage, it was the only thing that wasn't perfect. But if you hit five in the standing, time doesn't matter that much. This was close to a perfect competition," Bö said.
For Samuelsson, last season was challenging, so he is naturally happy with his successful open to the season. He missed one shot.
"After yesterday, I was satisfied and relaxed because my skiing was in fine form," Samuelsson said regarding the most important part of the men's individual.
Ponsiluoma had to ski a penalty loop after missing the first prone shot.
"When I missed a single shot in the prone, I got a little flustered, but I still managed a good race," Ponsiluoma says.
Seppälä satisfied with physical condition, Hiidensalo annoyed by missed shot
Tero Seppälä and Olli Hiidensalo were the best performing Finns placing 41st and 42nd.
"My physical condition is quite good, I was able to maintain a good pace for two laps today. Although there's room for improvement in my shooting, as it's not quite at the level it should be for the World Cup," Seppälä said, looking confidently forward.
Hiidensalo had a single miss in the standing.
"The skiing was all right, but smooth going. My shooting result was good, but I was extra careful in the prone. It was hard going in the standing. I was a bit annoyed when I missed the last shot. By shooting slowly I expected to make every shot, but it wasn't such a bad opening in any case," Hiidensalo said.
Check all the results: biathlonresults.com
Image: Manzoni/IBU