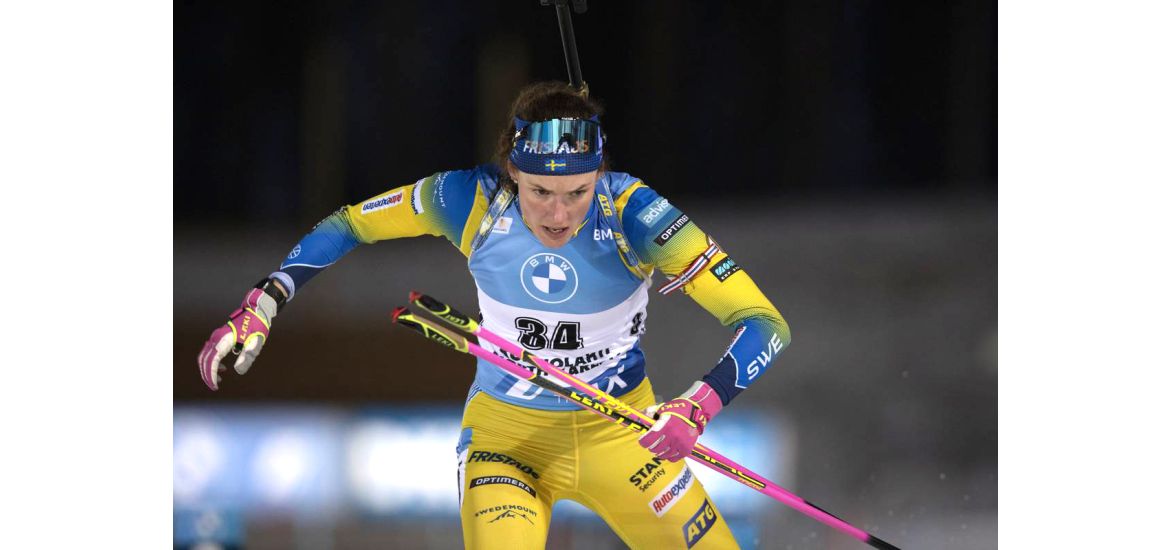 29.11.2020
Öberg victorious in women's 7.5 km sprint, Eder 54th
---
The Swedish team's strong start continued in the women's sprint at Kontiolahti, which Hanna Öberg won. She took her first sprint victory at the World Cup with a 23.9 second lead over Marte Olsbu Röiseland of Norway. Norway's Karolina Knotten came in third. All of the top three shot clean.
"I started pretty hard. I felt confident on both the tracks and the shooting range," said Öberg, delighted to take the Yellow Bib.
She also praised the strong contribution of the Swedes, with three of them placing in the top five in the sprint.
"We've done a good job," said Öberg, inspired by the success of her teammates.
Marte Olsbu Röiseland was delighted that her four misses in the women's individual changed to clean shooting. For Röiseland, placing in the top three in the sprint is a regular occurrence, with Sunday the tenth of its kind.
"I was a little nervous about the shooting today and spent a lot of time focusing. I am happy and relieved," Röiseland said about her clean shooting.
Knotten took the first podium finish of her career. She believes her experience in the relay helped make this achievement possible.
"I can't really explain how this feels. This season I want to be more consistent throughout the winter than I was last season," said Knotten.
A solid performance by Eder, Minkkinen disappointed with skiing performance
Mari Eder placed 54th, the best among the Finns. She had to make three penalty loops, with one of the passes coming from prone and two from the standing.
"The main thing to remember is that 70% is not enough for a good result. You need to hit more targets if you aim for a successful result. The skiing didn't feel terribly easy today, which was to be expected after yesterday's individual race. What was characteristic of today was that both the fast-paced and flat sections were difficult. They are usually my strengths," says Eder, feeling she coped well with the ascents.
A strong final lap proved to her that she has resilience, but my capacity to perform or tenacity "is still lacking". There were also positives to be found in the challenging day.
"However, there are ingredients inside the performance that it is still possible. It takes patience and hard work to make the pieces fall into place to get the wanted results".
Suvi Minkkinen came in 78th place with two misses. She was not satisfied but believes that better is yet to come. There were challenges on Sunday however.
"Today I experienced challenges with my skiing, my body was clearly a bit tired from yesterday's individual race. I certainly didn't perform at my best. However, there was no issue with my shooting," Minkkinen said.
Check all the results: biathlonresults.com
Image: Manzoni/IBU