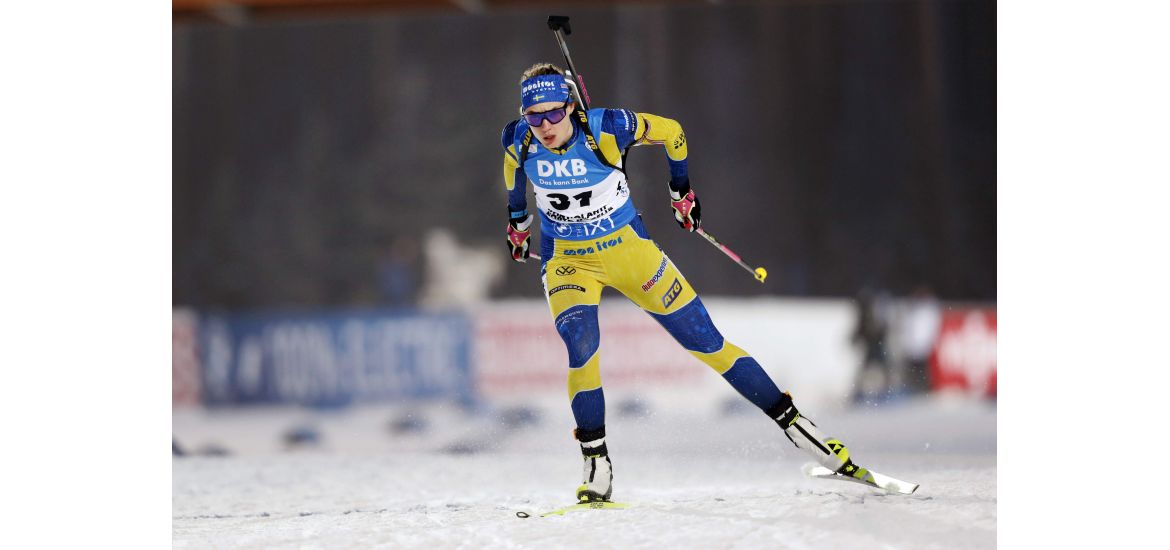 Hanna Oeberg's win means a Swede will wear the yellow bib in both men's and women's next event. Photo: Kalle Parkkinen
30.11.2022
Hanna Oeberg Continued Swedish Celebrations, Kinnunen and Eder in Top 20
Women's first World Cup race this season ended with a Swedish celebration. Hanna Oeberg won the Individual event, Norway's Ingrid Tandrevold was second, and Italy's Lisa Vittozzi third.
---
Season's first women's World Cup race ended with a Swedish celebration, as Hanna Oeberg won the individual. Norwegian Ingrid Tandrevold placed second, and Italian Lisa Vittozzi third.
Hanna Oeberg missed only one target. The Swede was so swift on skis, the penalty in the final shooting didn't steal her victory. Tandrevold, who shot clean and scored her best ever World Cup placing in the Individual, was 36.5 seconds behind Oeberg. Vitozzi, who missed one in the first shooting, was 39.7 seconds behind.
"I knew the skiing was going to be pretty okay, I felt relaxed about skiing. My main objective today was to get all the pieces together with skiing and shooting. I think I did a good job. I really worked with every shot. I missed one in the last standing, but overall I am really happy", stated Oeberg.
Oeberg's win means a Swede will wear the yellow bib in both men's and women's next event.
"I am really happy about this. Now I can relax and just continue working where I am."
Kinnunen and Eder open with lots of positives
Nastassia Kinnunen missed one shot in the first stage, but cleaned all the rest. Kinnunen finished 2:25.2 behind the winner. She was happy about her opening.
"The first World Cup is always a bit exciting, but I tried to do my best and I didn't think about the results. It worked out", said Kinnunen, satisfied.
Mari Eder got all three of her misses in the second prone.
"The race was moderate, unfortunately the three penalties from the second prone made the final placing worse. I've worked more on standing shooting in the end of the training season. It has clearly been more challenging to keep it together in a race-pace performance. I'm glad to bring that clean shooting to the next race", said Eder.
Other Finns, Suvi Minkkinen, Erika Janka, and Venla Lehtonen, placed 40th, 60th and 73rd, respectively. Minkkinen cleaned the first stage, but the remaining three resulted in one penalty each.
"I think I had a consistent race, but I had too many single slip-ups on the shooting range. In a way, one penalty per shooting is not bad, but in total it is just a bit too much", said Minkkinen about her three misses.
On Thursday, relays will take place in Kontiolahti.
---
Translation from Finnish: Hanna Sairanen