Coronainfo
EVENT ARRANGEMENTS DURING THE PANDEMIC – CHECK THE INSTRUCTIONS BELOW
Regional State Administrative Agency for Eastern Finland made the decision in 22 of October on restrictions on public gatherings in Eastern Finland, which allowed us to open the ticket sales to the Wold Cup events in November and December in Kontiolahti.
According to the Regional State Administrative Agency the event arrangements will follow the International Biathlon Union's (IBU) strict guidelines to ensure a safe event for the spectators, athletes as well as the event organizing crew.
General guidelines:
You should not attend to the event if you have any symptoms of respiratory infection such as cough, sore throat, fever or raised temperature, shortness of breath, muscle pain, abdominal symptom or headache.
Keep a safe distance of 1-2 meters between yourself and people outside of your group. Avoid close contact.
Always wash hands with soap and water. Remember to use hand sanitizer.
Practice good respiratory etiquette, including covering coughs and sneezes. Recycle your disposable handkerchief after use. If you do not have a handkerchief, cover your mouth with your elbow / sleeve.
Download "Koronavilkku" App on your phone and activate it.
Let's all follow these guidelines to ensure a safe event for everyone – thank you for your cooperation!
Arriving at the Stadium: Are there public event transportation?
The free event transportation arranged by the City of Joensuu and Kontiolahti municipality in previous World Cup events won't be arranged during any events during 2020-21 pediod. Spectators are required to arrive with their own cars which allows everyone to keep safe distances between other spectators. Parking arrangements and instructions will be clarified further before the event.
The spectators will be directed to smaller blocks within the Stadium. What does this mean in practice?
All the stands are outside. This gives the spectators a better opportunity to spread more widely apart especially around the B-Stand and track stand. Starting at the Stadium gates, the spectators will have clear instructions to their blocks and where they can move. Only a limited number of spectators are allowed within each block. You will be required to stay in your starting block during the entire event as it is not allowed to move around blocks.
There will be room for 4500 spectators each day, combined. Here's how the number is divided within blocks:
A-Stand 1000 visitors
B-Stand 1500 visitors
The Wall (track stand) 1500 visitors
VIP-Area 500 visitors
You can see the blocks visualized in this Stadium map. Different colours signify different areas and blocks.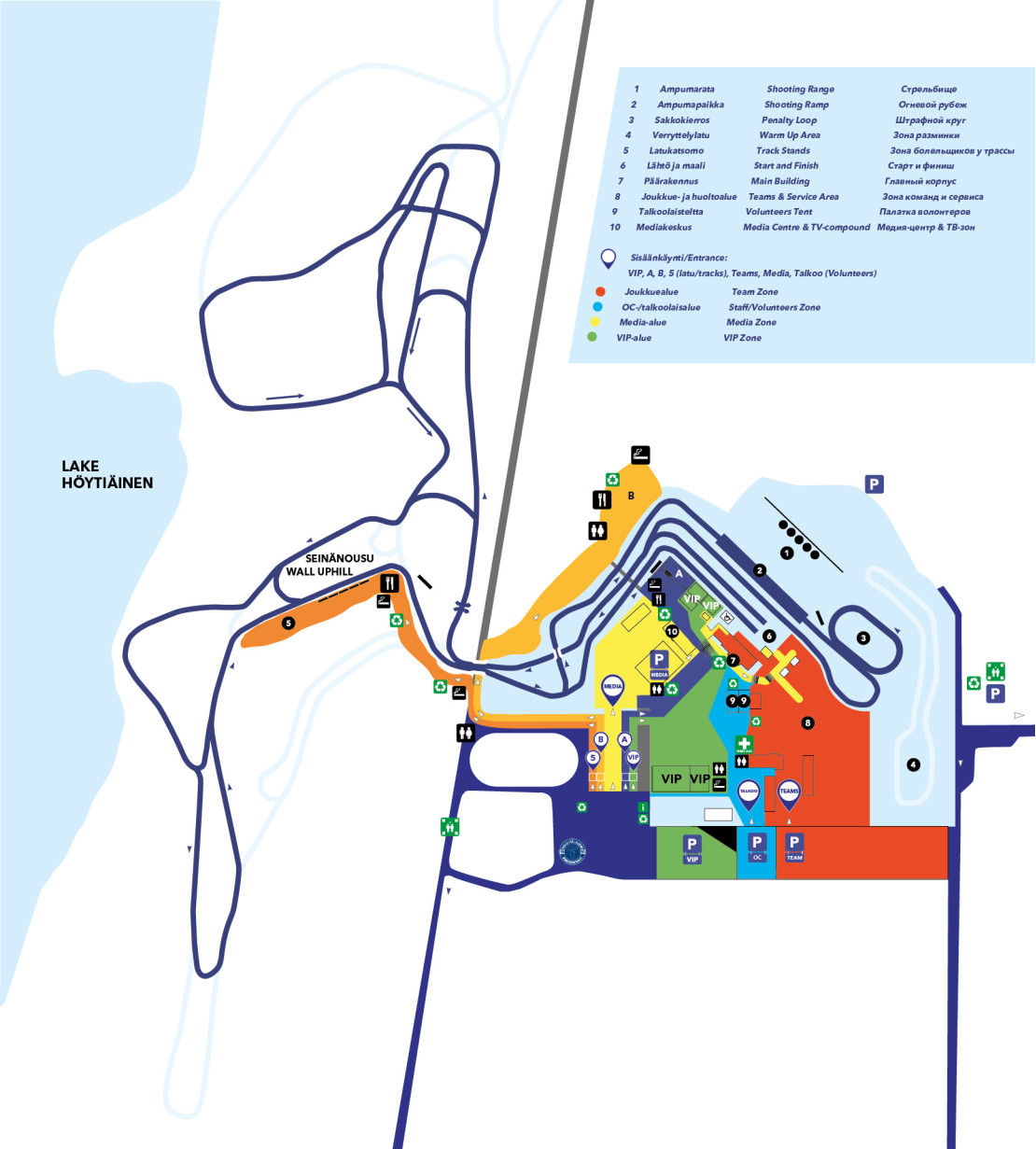 The guidelines by Regional State Administrative Agency for Eastern Finland are for November. What happens with the tickets for second week in December?
Regional State Administrative Agency for Eastern Finland made the decision in 22 of October on restrictions on public gatherings in Eastern Finland for November. This allowed us to open the ticket sales to the Wold Cup events in November, but we also opened ticket sales for the following week, 3-6 of December. If the official decisions change before the event in a way that does not allow for spectators to enter the area, we will refund the ticket price for the people who have purchased them.
What services are included within a block / stand?
Because moving from block to block isn't allowed, each block has their own entrance and their own services. You can check the location of toilets from the stadium map. There will be barbeque sausage stands in each block. Any other services, such as other dining and drinking options, will be clarified later.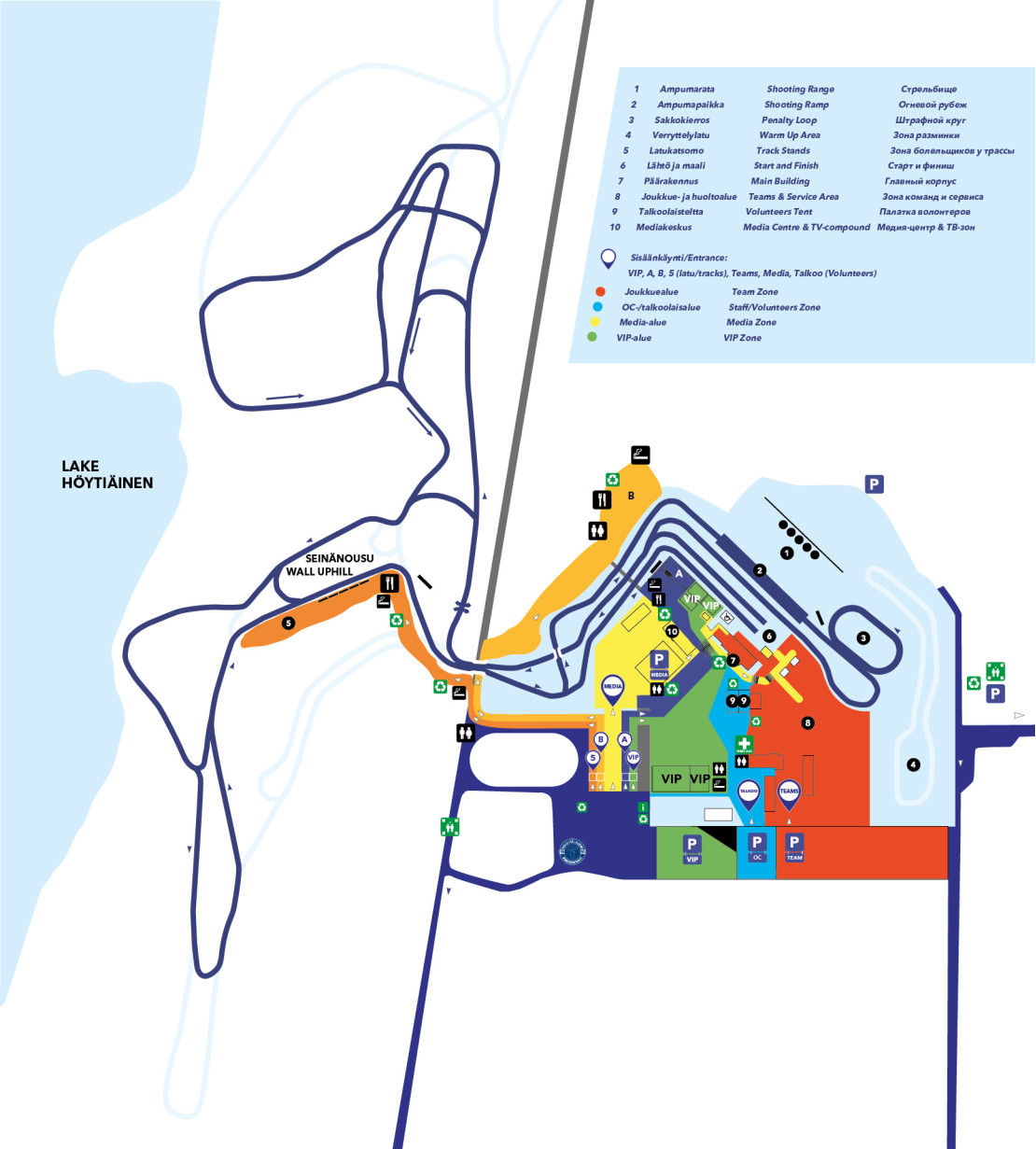 Is using a mask mandatory?
The athletes, coaches, media representatives and the event organizing crew will use a mask during the entire event, aside from the athletes during their competitions. The event organizer is strongly recommending the use of a mask to the spectators as well.
Do we have to bring our own hand sanitizer?
Each block will have hand sanitizer provided starting at the Stadium gate. When you bring your own hand sanitizer, it will always be close to you and is easiest to use.
Are the spectators required to use the Koronavilkku App?
The event organizer won't check spectators' phones, but strongly recommends everyone to download and activate the app in their phones.
Why aren't there tickets sales at the gate?
The tickets are only sold in Lippu.fi webstore, physical stores and R-Kioski stores. This helps us avoid any unnecessary contact between strangers as well as unnecessary queues and therefore avoid the spread the infections.
What happens if the official restrictions get stricter and the spectators won't be allowed to enter? Will I get my money back?
Anyone who has purchased a ticket but won't be able to attend due to cancellation of the event or changed restrictions from government officials, is entitled to a full refund.
How close the spectators are to the atheles?
The distance between spectators and the track / athletes is several meters.